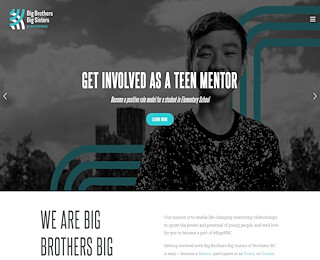 The Benefits Of Becoming A Mentor To Prince George Youth
When we decide to take the time to become a mentor to a child in Prince George, we are able to assist them in a number of ways. The developmental years are some of the most important that a child will ever experience. That's why a mentor from Prince George is able to assist local youth in a number of ways.
Let's take a closer look at the benefits that a child is able to enjoy when they are able to receive assistance from a willing mentor in the Prince George region. Taking the time to make a difference in a child's life is one of the most rewarding pursuits that we can ever embark upon.
Greater Level of Peer Acceptance
Children who are in need of mentoring often struggle to relate to their peers. When children do not have the chance to socialize with friends on a regular basis, their development can become stunted in a number of ways. If a child is struggling to make friends and fit in with their peers, a mentor is able to assist them in a very special way.
They will teach their protege how to get over any awkward feelings that they may have. A child that cannot gain peer acceptance from their peers is a child that may resort to negative behavior to receive it. On the other hand, a mentor provides a child with the sort of positive reinforcement that allows them to become an active member of their school's social circles.
Better Grades
Sometimes, children may need assistance with their homework and not have a reliable parent or teacher that is able to assist them. This is where a mentor comes into play. They can give children the help that they need and they can provide it in a manner that keeps the child from feeling self conscious. A mentor functions as a friend or an older brother, which allows the child to ask for academic assistance without trepidation.
The more time that the child spends studying, the more confidence they are going to have once it comes time to take tests. A wide range of children who cannot raise their grades to an acceptable level are merely lacking in confidence. Confident children are more likely to rise to the occasion when exam time rolls around, thanks to the help of their mentor.
More Likely To Attend College
At risk youth are not always given the same chances as their more affluent peers. That's why the presence of a devoted mentor is so important. Many of us watch the gap that continues to grow between at risk youth and upper class youth and wonder what we can do to help.
By becoming a mentor, we are doing our part to bridge the aforementioned gap and increase the likelihood of sending our protege to college. The statistics support this hypothesis as well. According to studies, a child that receives assistance from a mentor in Prince George is 55 percent more likely to enroll in college when they are of age.
Mentor Prince George
Big Brothers Big Sisters of Prince George
2505637410
777 Kinsmen Pl, Prince George, BC V2M 6Y7
View Larger Map